Nigeria's ex-president Chief Olusegun Obasanjo is powerful, influential, rich not just in his home country, but across Africa and international organisations hold him in high esteem any day, any time.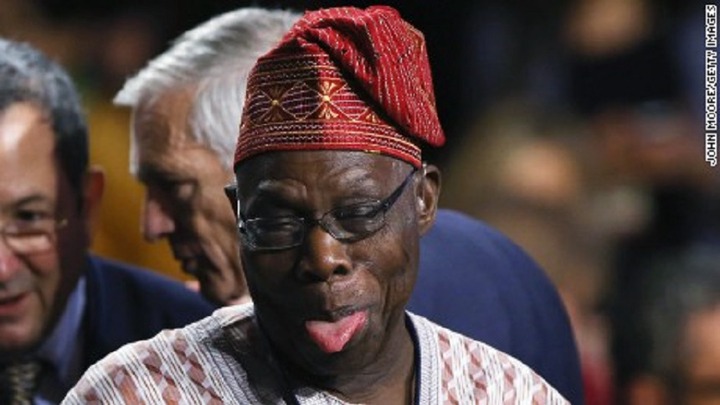 Despite his influence and power across the African continent, he holds tradition rulers in Yoruba land in high esteem irrespective of how young they are. Twice, as we know, the former Nigerian leader prostrated before traditional rulers in the Southwest geopolitical zone, a region dominated by the Yoruba speaking people.
The Yoruba people are known for their traditional way of respect. A typical Yoruba man may not think twice to give out something precious to him provided you pay him huge respect.
How many time has Chief Olusegun Obasanjo prostrated to Yoruba Kings?
As noted above, the ex-military man doesn't joke with his culture and as such he pays huge respect to Kings.
We may not be able to mention the exact number of times Obasanjo has prostrated before a king, but Naija News Point does know that he has done this publicly twice.
We have a photo of evidence of two different instances when he Obasanjo prostrated before Yoruba traditional rulers.
However, we're very sure he had prostrated more than two times.
Below is the timeline of Obasanjo prostrating before younger Kings:
Obasanjo prostrates before Ooni Of Ife in 2016
On February 6, 2016 a photo of Chief Obasanjo prostrating before the Ooni of Ife, Oba Adeyeye Enitan Babatunde Ogunwusi, Ojaja II, dominated the social media.
While Obasanjo was born March 5, 1937, the Ooni of Ife Oba Ogunwusi was born October 17, 1974, meaning the former Nigerian is older more than 40 years than the handsome young first-class traditional ruler.
Obasanjo and his powerful entourage were at the Ooni palace to hail the Oba's move to unite all traditional rulers, particularly the historic visit of Ooni to the Alaafin of Oyo.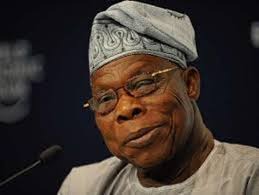 Obasanjo's entourage includes Dr. Femi Okunnu; Femi Majekodunmi; Chief Oyewole Faseye; Ayo Balogun and many other distinguished Yoruba personalities.
Obasanjo said during the visit that "It is only a sign of honour for the Ooni to visit anyone. That does not stop Ile-Ife from its position in the history of Yorubaland."
Obasanjo prostrates before Agura of Gbagura land on 2019
The second time Chief Olusegun Obasanjo was caught prostrating before a Yoruba King was on July 18, 2019 in a video shared on Instagram by the Publisher of The Ovation Magazine Chief Dele Momodu.
Obasanjo was on a visit to the newly installed Agura of Gbagura land in Abeokuta, Oba Saburee Babajide Bakare.
Obasanjo who led the delegation could be seen prostrating before the newly crowned king who received staff of office in May.
While Obasanjo was 82 years, his host, Oba Saburee Babajide Bakare was 59-year-old. The new king was a Chief Superintendent of Customs before ascending his forefather's throne.
Note: He must have prostrated for several Yoruba Oba, but we're only relying on the ones we have evidence to back it up.
Interestingly the two Obas above are far younger than the former president. In fact he is older to have both of them as his sons. But the throne of an Oba in Yoruba doesn't look at it that way.
Kudos to Chief Obasanjo.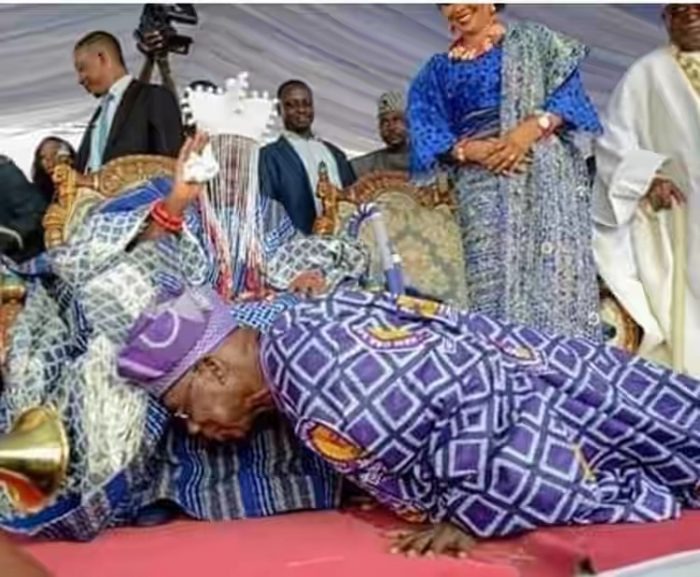 However, he only shook hands with the Alaafin of Oyo, Oba Adeyemi III, when he paid a visit sometimes in 2017 by bowing before him.